Post by bumpyoufor3 on Oct 19, 2020 14:04:22 GMT -6
I love fighting games. I went through the list of games that are in the Dumb Street Fighter cabinet (aka Pandoras Box 5s) and made a list of all the fighting games. I might have missed a couple. Anyway here is that list with a few of my favorites highlighted.
The Street Fighter Series!
All of the games made before Street Fighter 4 are on here. The best SF game in my opinion is Street Fighter 3: Third Strike. SF3 has mostly new characters from what had appeared in the earlier games (only Ryu, Ken, Chun-li, and Akuma had appeared previously), and added a bunch of features like 2 button throws, Ex specials, and multiple super moves.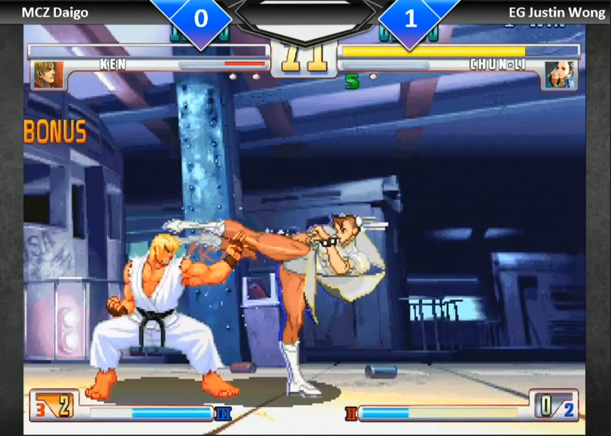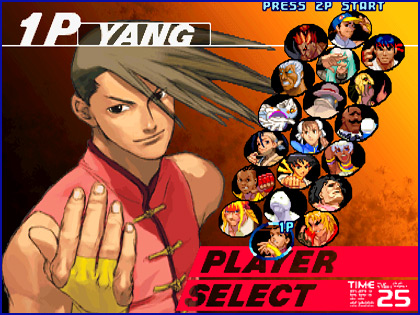 All of the variants of Street Fighter II are included as well, but the best version is Super Street Fighter II Turbo (in the game list it is Super Stfighter II T or Super Stfighter II X for the Japanese version). I'm sure you know the deal with SF2. The reason this is the best version is because not only is it better balanced, and you can play as the boss characters, and the new characters added in Super, but there is are secret codes so that you can play with older versions of the characters, and this version adds Super Moves, and Akuma is a hidden character.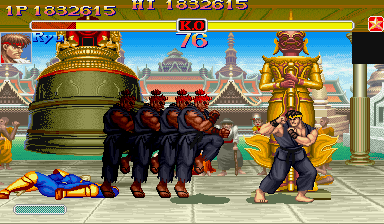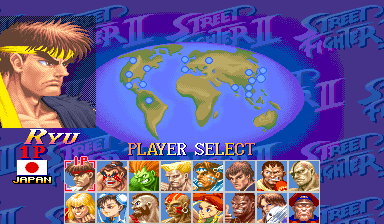 The Dumb machine also has all of the Street Fighter Alpha games which are pretty good, and the original Street Fighter which is garbage.
The King of Fighters Series!
King of Fighters is a series made by SNK who also made the Neo Geo system. A big noticeable difference between SNK games and Capcom games (like Street Fighter) is that SNK games only use 4 buttons instead of 6. King of Fighters is a game where SNK took all of their characters from all of their other games (stuff like Metal Slug, Ikari Warriors, Art of Fighting, Fatal Fury etc) and threw them into a game together. They put out a new version of the game every single year for like 15 years and most of them are named King of Fighters [Year]. It is also a TEAM based game as opposed to a 1 on 1 fight like Street Fighter. So when you pick your characters you actually pick three characters (or in some of the case of some of the older games you just pick a team and not individual fighters). When a team mate gets knocked out it's the next one's turn.
My favorite games in the King of Fighters Series are '98 and '02 (I also like XIII but that one is relatively new so it isn't in the Dumb machine).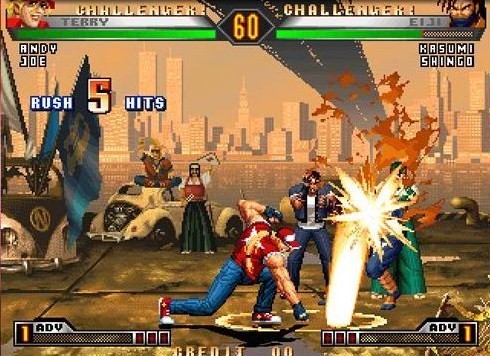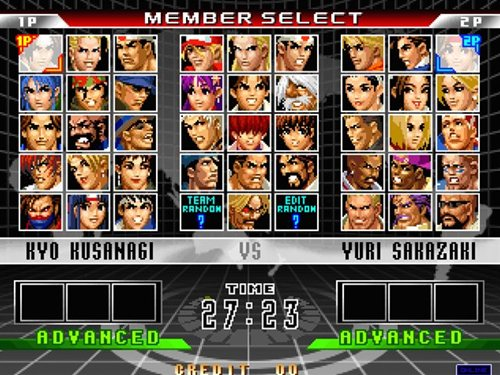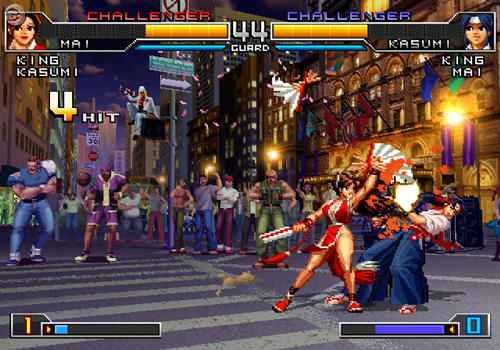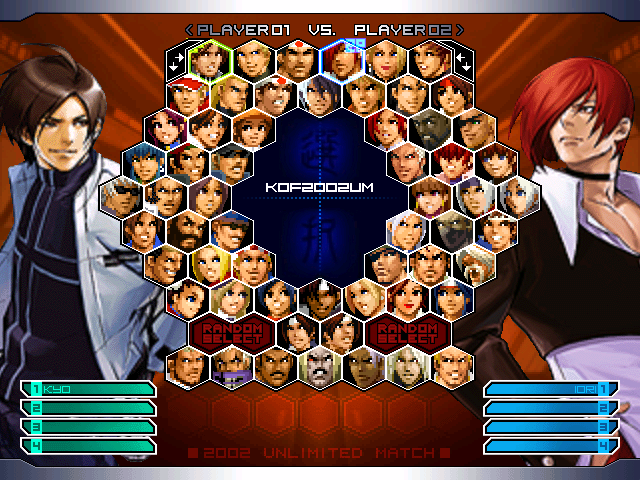 Garou: Mark of the Wolves!
This is just listed as Mark of Wolves in the Dumb Machine. Another SNK game (so 4 buttons again) but this time it's a 1 on 1 game. This one has a unique system where when your life gets to a certain point (that you get to pick) your character gets some extra powers. Also it has a character named Butt.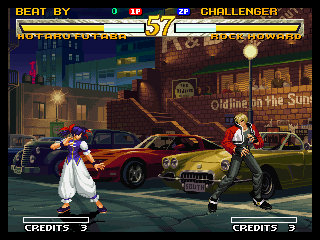 Darkstalkers/Vampire Savior Series!
A 1 on 1 Capcom (so 6 button) game where all the characters are horror themed. The best game in the series is called Vampire Savior. The unique thing about this one is that the rounds work more like KoF than Street fighter. Each characture has 2 life bars and once they are both gone the fight is over. I think there is something unique about the combo system too? I don't remember.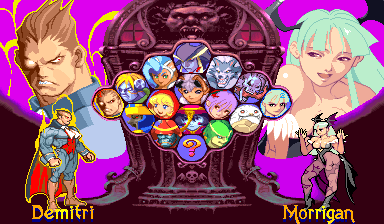 Marvel Vs Series!
I don't actually play any of these games but people like them. A Capcom (6 button) team game. Unique from King of Fighters because you have to ability to swap out your active character mid match and there is a way to have the inactive character do an assist move. Most people like Marvel vs Capcom best I think which has a bunch of characters from various Capcom fighting games and a bunch of comic book characters.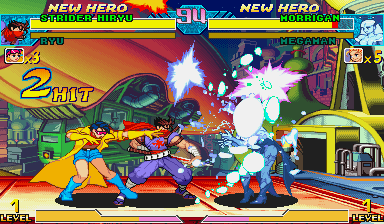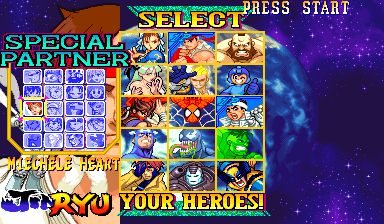 Well, like most things I do this took way more time and effort than it should have and the only person that will probably care is me. But if you ever want to fight sometime I'm very down. There is a way to play all of these games on the internet if you have a computer, and I have a bunch of fighting games on Steam too. Also, I'm not particularly good at any of these games.
Other fighting games in the Dumb machine: The Art of Fighting series, Jojo's Bizarre Adventure and JoJo's Venture, Karnov's Revenge, King of the Monsters 1 & 2, Martial Masters, Mortal Kombat, Pit Fighter, The Power Instinct Series, The Fatal Fury/Real Bout series,Red Earth, The Samurai Showdown Series, Slam Masters, SNK vs Capcom, The Last Blade 1&2, The World Heroes Series, Yie Ar Kung-Fu